How does a small business coach build a business? 
With white boards on her bedroom wall, of course!
First I had to erase all of my nerding – I have Dr. Rhonda Patrick to thank for the fact that I even have ⅔ of a sheet of melamine screwed on my wall. She's a biochemist with a podcast that covers a ton of longevity and gut health related info. 100% recommend! Found My Fitness on any podcast player. She's amazing! I also need to take notes and do extra research because I'm not a biochemist in the slightest. I am, however, good with a drill. Insta-whiteboard. Bam.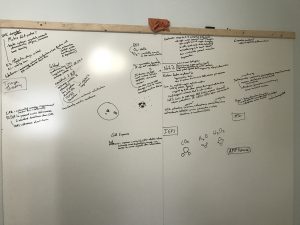 Okay, next: LOTS of brainstorming! This covered all the bases:
What is this business?
Oh Happy Plants combines massive knowledge of house plant care with a systematic approach based on a solid knowledge of human behavioral change to create easy ways to have gorgeous plants.
What elements will business consist of?
Video tutorials – both 'Spotlight' courses on individual plants and 'Plant Care Basics' courses to cover terminology and human behavioral change (sold through Podia? via my website)

Free material (available both on my site and YouTube)

Membership site w/additional perks (closed Facebook group?)

House plant consultation (available via membership)

Home consultation to choose the right plants for your home (via FaceTime)

Eventually, products and partnerships
How will I market?
Free material – videos – that offer a small bite of each 'Spotlight' course 

Email newsletter – keep it simple! – a tip a week, plus a teaser about new Spotlight course 1-2x/mo. Aim for 3 pieces of value per sell.

Instagram and Pinterest mainly, also Facebook and Twitter (use Smarter Queue for scheduling)

Partnering with other plant businesses

Extreme kindness and generosity as a marketing tool and because

that's just how we do things
What do I need (items/skills)?
Video studio (backdrops, lights, remotes for cameras, and to figure out the camera situation)

Video editing skills (research programs for ease of use/simplicity and quality of end product)

Plants! This one is easy

People to give extra plants to when I'm done with them – also easy!

Website

Solid+specific written voice and company 'vibe'

Social media profiles

Podia and Smarter Queue

Templates for all recurring tasks (spotlight courses, etc)
Alright! Now that I had a pile of lists (on all sorts of things – my notebook, sure, but also random scraps of paper, in Google Keep, on napkins…), I cleaned off my white board and set to work. 
Now, a side note: know thyself. There's a lot to learn here – and I'm the type of person who will keep learning things because I'm scared of action. Whether I'm intimidated by the project or scared of rejection or failure, I can get bogged down in knowledge. To try to get ahead of myself, I color-coded all of my actions, making sure there was a good balance between learning and creation.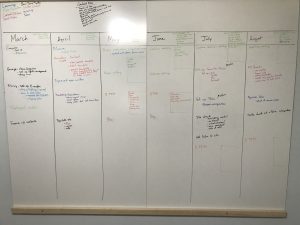 First step? During my day job I'll be listening to anything Amy Porterfield has on videos and Instagram curation, and on weekends I'll be cleaning out my garage. I'll also order all the lighting and look into cameras. I already have a few Nikkor lenses, so I'll likely get a Nikon dSLR body and use my iPhone for a second angle.
As a side note: Setting up a small video studio is quite an expense on the front end of a brand new business. I'm doing this because my coaching business is profitable, and I'm also working a day job. I fully expect my clients to keep expenses down as much as possible, and if I didn't have the money for lighting I would work it out with a combination of lamps from thrift stores, cardboard for directing light, tin foil for reflection, and duct tape (because: duct tape). So I'll say it once: You don't need fancy equipment to get going. You don't get to have that excuse.
Another note: I run my coaching business under an umbrella LLC that will cover all of the consulting I do. When you file for a business license, look to the future and adjust – this will save time and money.